Most Popular Products
Partner with us to avail supreme in quality Laser Engraving Machines, Flex Printing Machine, Industrial Printing Machine, etc.
About Us

Vaishanvi Digital System is strongly devoted to the notion of quality product sourcing business. We are glad to boast about alliances with some industry best vendors who swiftly accomplish our requirements for printing machines and more. We take our business roles of wholesaler and trader with high seriousness and this is evident in the perfection, which we bring in the execution of every responsibility be it building strong business networking or implementing stringent quality testing process.

We are immensely happy to found support in some quality-focused manufacturers who utilize modern machines and quality approved base materials in production of laser engraving machines, etc. Although our sourcing companies are well-known for maintaining high quality standards in range still we conduct a wide series of tests on procured range prior the final date of delivery so as to assure our buyers about 100% genuineness.

Our impressive product line of Flex Printing Machine, Industrial Printing Machine, Flex Banner Printing Machine, Printer Head, etc., is worthy of investment due to superior quality standards. We maintain aforesaid product line in a huge quantity so that sudden requirements of Indian clients can be excellently met in a limited period of time.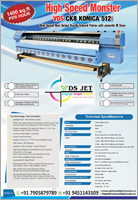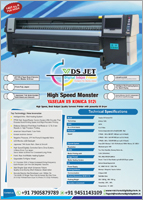 What Leads Us To Success?
Our idea of treating customers with immense respect and giving them complete product related information.
Our right choosing of vendors on the basis of their production capacity, market status and financial status.
Our remarkable handling of diverse business operations in a brilliant way.
Our excellent way of keeping a strict watch over competitors new business moves and planning something better than them in terms of strategies.
Stock In Abundance
We are glad to announce of being a trusted name in the market. The increasing trust of clients on us is a result of our well-keeping of products in a large quantity. Customers prefer to shake hands with business leaders who stock products in bulk for accomplish sudden business requirements of clients. Our business leader,
Mr. Yogesh Kumar Tiwari
, is a reliable man in business because he maintains a huge stock of Eco Solvent Printing Machine, Printer Head etc., in warehousing space for meeting urgent needs of buyers. He maintains proper record of incoming and outgoing of stock so as to avoid any business issue in future. Nearness of warehousing space assists in swift delivery of products to esteemed clients.
VAISHANVI DIGITAL SYSTEM
B No. D-84, Vibhuti Khand, Gomti Nagar, Near R.K Timber,Lucknow - 226021, Uttar Pradesh, India
Phone :+918045477682
Fax :91--9451143109
Mr Yogesh Kumar Tiwari (Proprietor )
Mobile :918045477682